Stela of Ashurbanipal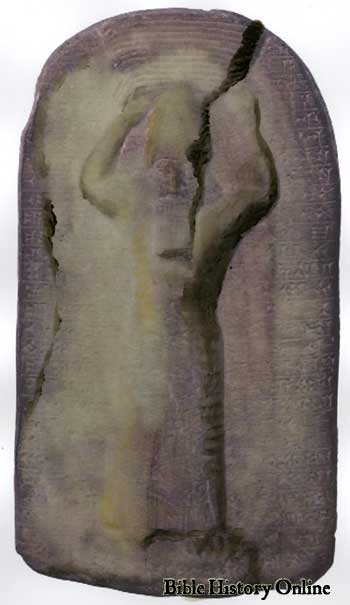 Could this relief be reminiscent of king Solomon who was personally involved in the dedication of the Temple in Jerusalem?
This relief of Ashurbanipal (668-626 B.C.) from Nineveh reveals the king carrying a basket on his head, symbolizing the kings personal involvement in the restoration of the temple of Esagila in Babylon.
King Ashurbanipal is reminiscent of king Solomon who was personally involved in the construction of the Temple of Yahweh in Jerusalem. One generation later the Babylonians came and destroyed proud Assyria and the Assyrian Empire passed into history. The Stela of Ashurbanipal discovery is important in the study of Biblical Archaeology.
"Woe to Assyria, the rod of My anger And the staff in whose hand is My indignation. I will send him against an ungodly nation, And against the people of My wrath I will give him charge, To seize the spoil, to take the prey, And to tread them down like the mire of the streets. Yet he does not mean so, Nor does his heart think so; But it is in his heart to destroy, And cut off not a few nations. For he says, "Are not my princes altogether kings? Is not Calno like Carchemish? Is not Hamath like Arpad? Is not Samaria like Damascus? As my hand has found the kingdoms of the idols, Whose carved images excelled those of Jerusalem and Samaria, As I have done to Samaria and her idols, Shall I not do also to Jerusalem and her idols?"' Therefore it shall come to pass, when the Lord has performed all His work on Mount Zion and on Jerusalem, that He will say, "I will punish the fruit of the arrogant heart of the king of Assyria, and the glory of his haughty looks." For he says: "By the strength of my hand I have done it, And by my wisdom, for I am prudent; Also I have removed the boundaries of the people, And have robbed their treasuries; So I have put down the inhabitants like a valiant man." Isaiah 10:5-13
Material - Black Limestone Obelisk
Neo Assyrian
Date: 669-655 BC
Language: Cuneiform
Height: 37 cm
Width: 22 cm
Depth: 10 cm
Babylon, southern Iraq
Excavated by: Robert Koldeway 1899-1917
Location: British Museum, London
Item: ANE 90864 (1881.3-24.367)
Room: 55, Later Mesopotamia, case 11
British Museum Excerpt
Stela of Ashurbanipal

Neo-Assyrian, about 669-655 BC
From Babylon, southern Iraq


The king carrying a basket on his head


The city of Babylon had been destroyed by the Assyrian king Sennacherib in 689 BC but was rebuilt by his son Esarhaddon (reigned 680-669 BC) and grandson Ashurbanipal (reigned 669-631 BC). One of the duties of a Mesopotamian king was to care for the gods and restore or rebuild their temples. Much earlier, in the late third millennium BC, rulers in southern Mesopotamia depicted themselves carrying out this pious task in the form of foundation pegs, such as the copper figure of Ur-Nammu (reigned 2112-2095 BC), also in The British Museum.

It is possible that similar figurines were discovered in the ruins of Babylon during Ashurbanipal's rebuilding works. For on this stela, Ashurbanipal, wearing the Assyrian king's head-dress, is shown in the pose of earlier kings, lifting up a large basket of earth for the ritual moulding of the first brick.

The cuneiform inscription around and over the king's body records his restoration of the shrine of Ea, the god of fresh water and wisdom, within the Temple of Marduk, the supreme deity of Babylon.

The British Museum
---
List of Assyrian Kings
Assur-nasipal II (885-860 B.C.) A cruel warrior king, he made Assyria into the most fierce fighting machine of ancient world.
Shalmaneser II (860-825 B.C.) he was the first Assyrian king to come into conflict with Israel. King Ahab fought against him, and king Jehu paid him tribute.
Shansi-adad (825-808 B.C.) Assyria in decline
Adad-nirari (808-783 B.C.) Assyria in decline
Shalmaneser III (783-771 B.C.) Assyria in decline
Assur-dayan (771-753 B.C.) Assyria in decline
Assur-lush (753-747 B.C.) Assyria in decline
Tiglath-pileser III (Pul) (747-727 B.C.) He carried the Northern Kingdom of Israel into captivity.
Shalmaneser IV (727-722 B.C.) He besieged Samaria and died during the siege.
Sargon II (722-705 B.C.) He completed the destruction of Samaria and the captivity of Israel.
Sennacherib (705-681 B.C.) He was the most famous of the Assyrian kings, he mentions the name of Hezekiah on his prism. His army was defeated at the gates of Jerusalem by the Angel of the Lord. He also conquered Babylon.
Esar-haddon (681-668 B.C.) He rebuilt Babylon and conquered Egypt. He was one of Assyria's greatest kings.
Assur-banipal (668-626 B.C.) He destroyed the Thebes in Egypt and collected a great library, innumerable clay tablets were found.
Assur-etil-ilani (626-607 B.C.) It was under his reign that the Assyrian Empire fell.
Assyrian annals mention contacts with some ten Hebrew kings: Omri, Ahab, Jehu, Menahem, Hoshea, Pekah, Uzziah, Ahaz, Hezekiah, and Manasseh.
---
Related Pages:
Ashurbanipal in the Bible Encyclopedia
Ashurbanipal Glossary Definition
Lachish in Easton's Bible Dictionary
Biblical Archaeology: Assyria

Archaeology of Ancient Assyria - Archaeological Discoveries
Ancient Near East - Images and Art

Free Bible - Fallen Empires (Biblical Archaeology)

Bible History Links - Ancient Near East : Art & Images

Free Bible - Ancient Art
Assyria and Bible Prophecy - Timeline of Events
Ancient History Timeline

The Destruction of Israel - Kings of Israel, Judah and Assyria
Archaeology of Ancient Assyria - Khorsabad

Timeline 800 - 700 BC

The Assyrians

The Captivity
Archaeology of Ancient Assyria - Calah
Ancient Babylonia - Nimrud

Archaeology of Ancient Assyria - Austen Henry Layard

Archaeology of Ancient Assyria - Ancient Assyria

International Standard Bible Encyclopedia - Calah

Ancient Sketches