Enemy Trod Under Foot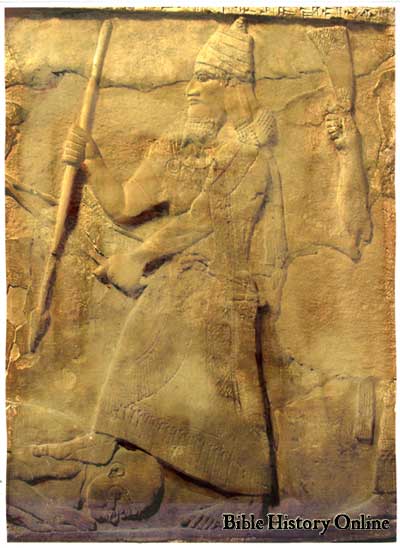 Could this rock-carved image be similar to Joshua's words in the Bible?
In this wall relief the Assyrian king places his foot upon the neck of his enemy to symbolize complete submission and defeat of the captured king.

This discovery is important in the study of Biblical Archaeology because it confirms the Biblical account to put the neck of an enemy under foot.
"So it was, when they brought out those kings to Joshua, that Joshua called for all the men of Israel, and said to the captains of the men of war who went with him, "Come near, put your feet on the necks of these kings." And they drew near and put their feet on their necks." - Josh 10:24

"The LORD said to my Lord, "Sit at My right hand, Till I make Your enemies Your footstool." - Ps 110:1
Related Pages:
Assyrian Pride - Ashurnasirpal II Inscription

Human-headed winged bull
Bible History Links - Biblical Archaeology : Assyria
Bible History Links - Ancient Near East : Art & Images

Free Bible - Colossal Lion of Assyria
Archaeology of Ancient Assyria - Calah
Ancient Babylonia - Nimrud

Archaeology of Ancient Assyria - Austen Henry Layard

Archaeology of Ancient Assyria - Ancient Assyria

HUNTING in the Bible Encyclopedia - ISBE

International Standard Bible Encyclopedia - Calah

Ancient Sketches