Assyria and Bible Prophecy


Assyria will be Broken in the Holy Land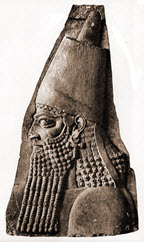 Isaiah 14:24-28
24 The LORD of hosts has sworn, saying, "Surely, as I have thought, so it shall come to pass, And as I have purposed, so it shall stand:
25 That I will break the Assyrian in My land, And on My mountains tread him underfoot. Then his yoke shall be removed from them, And his burden removed from their shoulders.
26 This is the purpose that is purposed against the whole earth, And this is the hand that is stretched out over all the nations.
27 For the LORD of hosts has purposed, And who will annul it? His hand is stretched out, And who will turn it back?"
28 This is the burden which came in the year that King Ahaz died.
• Assyria would be broken in the land of Judah, even in Jerusalem, which took place upon Sennacherib's invasion of 701 B.C.
• The whole earth would be made aware that the Lord protect Jerusalem, and disaster will come to any nation in the whole world that attacks Israel.
• All these disasters to neighboring nations would demonstrate the irresistible power of the one true God, the God of Israel.