Assyria and Bible Prophecy


Assyria will Plunder Israel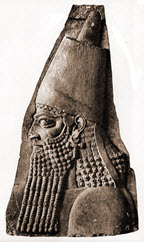 Isaiah 8:1-10
1 Moreover the LORD said to me, "Take a large scroll, and write on it with a man's pen concerning Maher-Shalal-Hash-Baz.
2 And I will take for Myself faithful witnesses to record, Uriah the priest and Zechariah the son of Jeberechiah."
3 Then I went to the prophetess, and she conceived and bore a son. Then the LORD said to me, "Call his name Maher-Shalal-Hash-Baz;
4 for before the child shall have knowledge to cry 'My father' and 'My mother,' the riches of Damascus and the spoil of Samaria will be taken away before the king of Assyria."
5 The LORD also spoke to me again, saying:
6 "Inasmuch as these people refused The waters of Shiloah that flow softly, And rejoice in Rezin and in Remaliah's son;
7 Now therefore, behold, the Lord brings up over them The waters of the River, strong and mighty -- The king of Assyria and all his glory; He will go up over all his channels And go over all his banks.
8 He will pass through Judah, He will overflow and pass over, He will reach up to the neck; And the stretching out of his wings Will fill the breadth of Your land, O Immanuel.
9 "Be shattered, O you peoples, and be broken in pieces! Give ear, all you from far countries. Gird yourselves, but be broken in pieces; Gird yourselves, but be broken in pieces.
10 Take counsel together, but it will come to nothing; Speak the word, but it will not stand, For God is with us."
? The prophet Isaiah mentions 3 children. "Immanuel" is from the line of David, and the other two (Shear-Jashub and Maher-shalal-hash-baz) are from Isaiah?s own loins.
? Maher-shalal-hash-baz means "Hurry to the spoil and rush to the prey." In other words the mighty Assyria will be quick to Israel and Syria for the spoil.
? God spoke all of this to Isaiah before he married or had any children.
? This prophecy was fulfilled when Tiglathpileser III captured and spoiled Damascus and Samaria in 732 B.C.
? The capture of Israel and Syria would happen before the newborn baby boy would be old enough to utter "my father" and "my mother."
? The chosen people rejected the Lord (the waters of shiloah) and trusted in Rezin of Syria and Remaliah?s son (king Pekah) of Samaria
? Assyria would conquer the land but it would still be the land of the Messiah.