Assyria and Bible Prophecy


Assyria will Strip the Land of Judah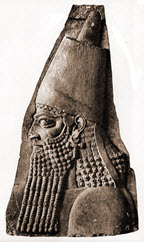 Isaiah 7:17-25
17 The LORD will bring the king of Assyria upon you and your people and your father's house -- days that have not come since the day that Ephraim departed from Judah."
18 And it shall come to pass in that day That the LORD will whistle for the fly That is in the farthest part of the rivers of Egypt, And for the bee that is in the land of Assyria.
19 They will come, and all of them will rest In the desolate valleys and in the clefts of the rocks, And on all thorns and in all pastures.
20 In the same day the Lord will shave with a hired razor, With those from beyond the River, with the king of Assyria, The head and the hair of the legs, And will also remove the beard.
21 It shall be in that day That a man will keep alive a young cow and two sheep;
22 So it shall be, from the abundance of milk they give, That he will eat curds; For curds and honey everyone will eat who is left in the land.
23 It shall happen in that day, That wherever there could be a thousand vines Worth a thousand shekels of silver, It will be for briers and thorns.
24 With arrows and bows men will come there, Because all the land will become briers and thorns.
25 And to any hill which could be dug with the hoe, You will not go there for fear of briers and thorns; But it will become a range for oxen And a place for sheep to roam.
• This prophecy was spoken during the time of king Ahaz.
• It is about how Judah will be destroyed by Assyria because they rejected Him and did not choose to trust Him.
• This was spoken during the time that Assyria was helping Judah against Israel and Syria.
• This prophecy came to pass while Isaiah was still an old man.
• After the destruction of Judah only Jerusalem was left standing.
• The fly of Egypt and the bee of Assyria speak of God drawing them out and the clash of these mighty armies. Their armies no doubt stripped every inch of the country for provision.
• The hired razor was king Sennacherib who came to power later and destroyed most of the territory of Judah in 701 B.C.
• Assyrian records that Sennacherib leveled 46 cities and led captive about 200,000 people.
• The Assyrians were hired because king Ahaz first bribed them to come to his aid against the Northern Kingdom of Israel and their ally Syria.
• Curds (butter) and honey are usually the only survivors of desolated cities.
• The dollar value of the land of Judah will be brought to nothing.
• The king of Assyria would be more for Judah to fear than the internal strife that tore the original kingdom of Israel apart.