Herod the Great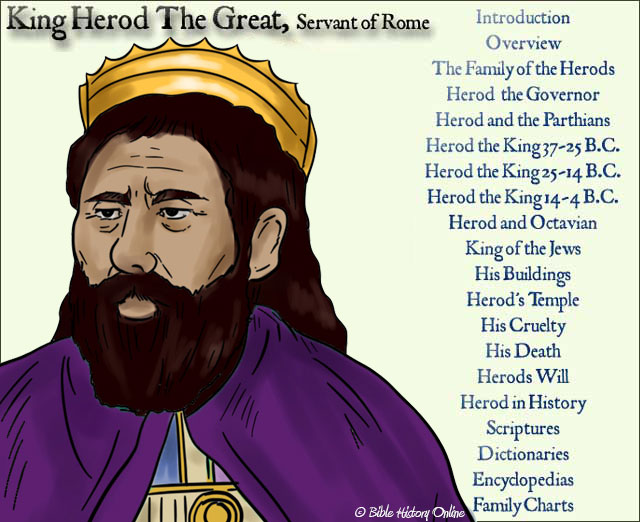 "in the days of Herod the king" - Matthew 2:1
Herod the Great - A Brief Overview
Click on the Picture
Herod I (the Great) was son of Antipater and made king by the Romans in 40 B.C. He managed to keep hold of his throne in the face of the many changes in the government at Rome.

His kingdom comprised Judea, Samaria, Galilee, Idumea, Batanea, and Peraea, which was approximately the same size as the kingdom of David and Solomon.

Although Herod had exceptional leadership skills, he was extremely disliked by the Jews. His attitude toward the Maccabean dynasty, to which he was related by marriage, along with his insolence and cruelty, angered them all the more. He even had his brother-in-law and several of his wives and sons executed.

He forced heavy taxes and brutally repressed any rebellions. But it was by his policy of Hellenistic culture that he greatly wounded the Jews. The construction of a race-course, a theater, and an amphitheater in Jerusalem, his wide support of the emperor cult in the East, and the construction of pagan temples in foreign cities at his own expense could not be forgiven, even though he restored and reconstructed the Temple of Jerusalem and continually pleaded the cause of the Jews of the Diaspora to the emperor to his own gains.

There was no close tie between the king and his people; he remained an Edomite and a friend of Rome, only holding on to his power by the use of a merciless military force. This is the same Herod the Great who massacred the children of Bethlehem (Matt. 2).

Herod suddenly died in 4 B.C.









C
D
E
G
H
I
K
O
S
T
W