Megiddo Seal - Jeroboam Inscription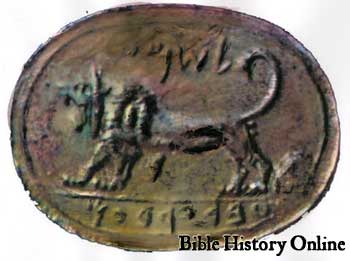 Does this jasper seal actually mention the name of king Jeroboam?
The Megiddo Seal was discovered in 1904 by an archaeological team led by Gottlieb Schumacher. The discovery was determined to be a seal belonging to a royal minister in the 8th century BC.
It is engraved with the figure of a roaring lion (symbol of the kingdom of Judah) with a beautiful curved tail with beautiful workmanship. The Hebrew inscription on it reads "Shema" on top, and "Servant of Jeroboam" on the bottom.

"Shema servant of Yarob'oam"

The inscription actually proclaims the name and rank of its owner, one of the ministers of King Jeroboam II who reigned from 787-747 BC. The word "servant" is the Hebrew word "ebed" and is mentioned in the Bible as one of high dignity in the government. Many seals have been discovered with similar inscriptions like "the servant of the king." The Megiddo Seal with the Jeroboam Inscription is of great importance in Biblical Archaeology, it mentions one of the kings of the northern kingdom of Israel.

2 Kings 14:23-25 In the fifteenth year of Amaziah the son of Joash, king of Judah, Jeroboam the son of Joash, king of Israel, became king in Samaria, and reigned forty-one years. And he did evil in the sight of the LORD; he did not depart from all the sins of Jeroboam the son of Nebat, who had made Israel sin.
Material: Jasper Seal
Israel: Megiddo
Babylonian Period
Reign of Jeroboam, (8th cent. BC)
Roaring Lion with curved tail
Jasper, Inscription
Oval-shaped, Scaraboid
1.2 H, 1.5 in W
A single line encircles the seal
(Babylonian Per. Hebrew Script)
Discovered in 1904
Lost in Constantinople
Archaeological Museum, Istanbul
R: Rockefeller Museum, Jerusalem
---
The Kings of Israel (all wicked)
Jeroboam I (933-911 BC) twenty-two years
Nadab (911-910) two years
Baasha (910-887) twenty-four years
Elah (887-886) two years
Zimri (886) seven days
Omri (886-875) twelve years
Ahab (875-854) twenty-two years
Ahaziah (855-854) two years
Jehoram (Joram) (854-843) twelve years
Jehu (843-816) twenty-eight years
Jehoahaz (820-804) seventeen years
Jehoash (Joash) (806-790) sixteen years
Jeroboam II (790-749) forty-one years
Zechariah' (748) six months
Shallum (748) one month
Menahem (748-738) ten years
Pekahiah (738-736) two years
Pekah (748-730) twenty years
Hoshea (730-721) nine years
The Kings of Judah (8 were good)
Rehoboam (933-916 BC) seventeen years
Abijam (915-913) three years
Asa (Good) (912-872) forty-one years
Jehoshaphat (Good) (874-850) twenty-five years
Jehoram (850-843) eight years
Ahaziah (843) one year
Athaliah (843-837) six years
Joash (Good) (843-803) forty years
Amaziah (Good) (803-775) 29 years
Azariah (Uzziah) (Good) (787-735) fifty-two years
Jotham (Good) (749-734) sixteen years
Ahaz (741-726) sixteen years
Hezekiah (Good) (726-697) 29 years
Manasseh (697-642) fifty-five years
Amon (641-640) two years
Josiah (Good) (639-608) thirty-one years
Jehoahaz (608) three months
Jehoiachim (608-597) eleven years
Jehoiachin (597) three months
Zedekiah (597-586) eleven years
---
Related Pages:
Seal in the Bible Encyclopedia - ISBE
Seal in Smith's Bible Dictionary
Jeroboam in Easton's Bible Dictionary
Jeroboam in the ISBE Bible Encyclopedia
Jeroboam's Golden Calves (Bulls)
Lachish in Fausset's Bible Dictionary
Lachish in the ISBE Bible Encyclopedia
Lachish in Smith's Bible Dictionary
The Babylonian Captivity and Archaeology
The Babylonian Captivity in the ISBE Bible Encyclopedia
David in Easton's Bible Dictionary
Map of the Kingdom of David and Solomon
Solomon in Smith's Bible Dictionary
Solomon's Temple in Easton's Bible Dictionary
Beersheba in the ISBE Bible Encyclopedia
Biblical Definition of Beersheba
Altar - Background Bible Study
Altar in Smith's Bible Dictionary
Altar in the ISBE Bible Encyclopedia
Israel - The Center of the Ancient World
Israel - Archaeology Links and Resources
The Destruction of Israel in the Old Testament
Archaeological Resources - Israel
Free Bible - Fallen Empires (Biblical Archaeology)

Bible History Links - Ancient Near East : Art & Images

Free Bible - Ancient Art
The Destruction of Israel - Kings of Israel, Judah and Assyria
Timeline 800 - 700 BC

The Assyrians

The Captivity of Israel
The Impregnable Strength of Jerusalem