House of David Inscription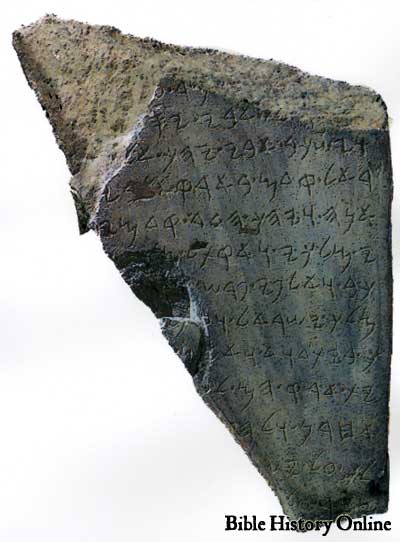 Was king David's name inscribed on this black stone slab?
An inscription containing the words "house of David" was found on a black basalt stone slab called the Tel Dan Stele, from Tel Dan, Israel, 9th Century B.C.
It was a victory stele erected by an Aramaean king north of Israel. The inscription contains an Aramaic writing commemorating his victory over Israel. The author is most likely Hazael or his son, Ben Hadad II or III, who were kings of Damascus, and enemies of the kingdom of Israel. The stele was discovered at Tel Dan, previously named Tell el-Qadi, a mound where a city once stood at the northern tip of Israel.
The Israel Museum, Jerusalem
House of David Inscription, Biblical Archaeology
1 Kings 2:11 - And the days that David reigned over Israel [were] forty years: seven years reigned he in Hebron, and thirty and three years reigned he in Jerusalem.
Material - Basalt Stone Stele
Israel Period of the Kings
Date: 858-824 BC
Language: Aramaic
Height: 32 cm
Width: 22 cm
Depth:
Tel Dan, Galilee
Excavated by: Avraham Biran 1994
Location: Israel Museum, Jerusalem

Israel Ministry of Foreign Affairs Excerpt
The Aramaic Stele

Fragments of the Aramaic stele

Fragments of a large inscribed basalt stele were found in the square located in front of the Israelite city gate complex. The largest of these fragments measures 32 x 22 cm. and, of the original inscription, thirteen lines have been partially preserved. The language is ancient Aramaic.

The 9th century BCE and the beginning of the 8th century BCE were marked by military conflicts between the kings of Israel and the expanding kingdom of Aram-Damascus. (1 Kings 15:20) Thus the stele was erected by one of the Aramean kings of Damascus who captured Dan - although which king cannot be ascertained as yet. It is probable that in lines 7-8 two kings of Israel and Judah, who ruled at the same time, are mentioned: Jehoram, king of Israel and Ahaziah, king of Judah, referred to as a king of the House of David. These two kings were allies and were defeated by Hazael, king of Aram-Damascus. (2 Kings 8:7-15, 28; 9:24-29; 2 Chronicles 22:5)

The stele describing Hazael's victory over his enemies was, in all probability, erected by him when he conquered Dan in the mid-9th century BCE. It is reasonable to assume that Jehoash, king of Israel, who fought the Arameans three times and defeated them (2 Kings 13:25) recovering territories previously lost, including the city of Dan, symbolically smashed the stele erected there by Hazael, king of Aram-Damascus.

Although the broken stele raises serious historical problems, it is one of the most important written finds in Israel and the first non-biblical text which mentions the House of David by name. It is hoped that more fragments of this unique stele will be uncovered in future excavations.


Excavated by A. Biran, on behalf of Hebrew Union College, Jerusalem
---
The Kings of Israel (all wicked)
Jeroboam I (933-911 BC) twenty-two years
Nadab (911-910) two years
Baasha (910-887) twenty-four years
Elah (887-886) two years
Zimri (886) seven days
Omri (886-875) twelve years
Ahab (875-854) twenty-two years
Ahaziah (855-854) two years
Jehoram (Joram) (854-843) twelve years
Jehu (843-816) twenty-eight years
Jehoahaz (820-804) seventeen years
Jehoash (Joash) (806-790) sixteen years
Jeroboam II (790-749) forty-one years
Zechariah' (748) six months
Shallum (748) one month
Menahem (748-738) ten years
Pekahiah (738-736) two years
Pekah (748-730) twenty years
Hoshea (730-721) nine years
The Kings of Judah (8 were good)
Rehoboam (933-916 BC) seventeen years
Abijam (915-913) three years
Asa (Good) (912-872) forty-one years
Jehoshaphat (Good) (874-850) twenty-five years
Jehoram (850-843) eight years
Ahaziah (843) one year
Athaliah (843-837) six years
Joash (Good) (843-803) forty years
Amaziah (Good) (803-775) 29 years
Azariah (Uzziah) (Good) (787-735) fifty-two years
Jotham (Good) (749-734) sixteen years
Ahaz (741-726) sixteen years
Hezekiah (Good) (726-697) 29 years
Manasseh (697-642) fifty-five years
Amon (641-640) two years
Josiah (Good) (639-608) thirty-one years
Jehoahaz (608) three months
Jehoiachim (608-597) eleven years
Jehoiachin (597) three months
Zedekiah (597-586) eleven years
---
Related Pages:
David in Easton's Bible Dictionary
Map of the Kingdom of David and Solomon
Solomon in Smith's Bible Dictionary
Solomon's Temple in Easton's Bible Dictionary
Beersheba in the ISBE Bible Encyclopedia
Biblical Definition of Beersheba
Altar - Background Bible Study
Altar in Smith's Bible Dictionary
Altar in the ISBE Bible Encyclopedia
Israel - The Center of the Ancient World
Israel - Archaeology Links and Resources
The Destruction of Israel in the Old Testament
Archaeological Resources - Israel
Free Bible - Fallen Empires (Biblical Archaeology)

Bible History Links - Ancient Near East : Art & Images

Free Bible - Ancient Art
The Destruction of Israel - Kings of Israel, Judah and Assyria
Timeline 800 - 700 BC

The Assyrians

The Captivity of Israel
The Impregnable Strength of Jerusalem